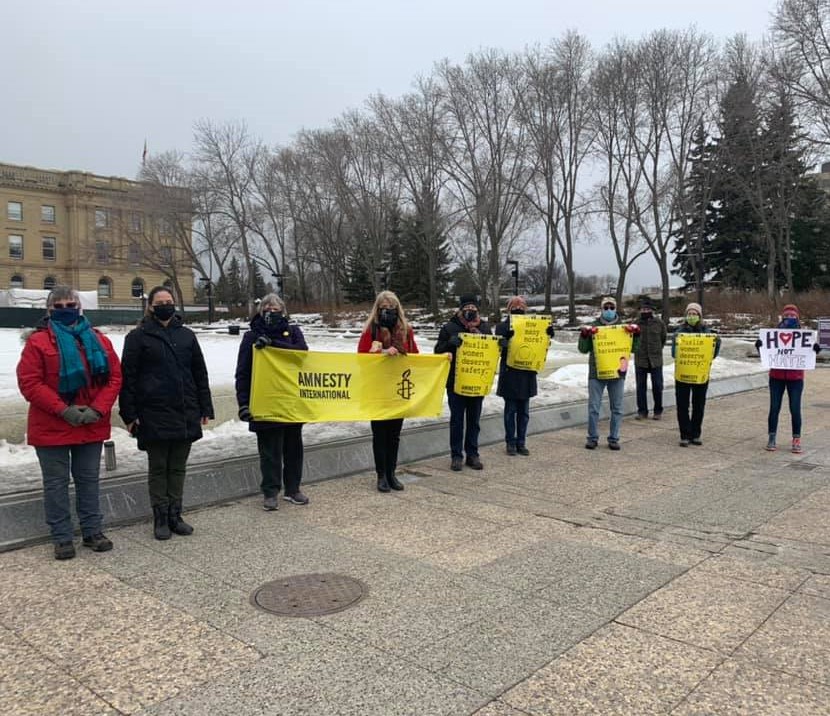 Amnesty International is a worldwide movement of "ordinary" people who work together to achieve extraordinary results.

The actions of Amnesty members are a beacon of hope for many people who are imprisoned because of their beliefs, for men and women on death row, for the tortured, for those suffering the loss of "disappeared" loved ones, and for people seeking refuge from harm.

The glowing candle flame is like the voice of nearly two million Amnesty International members around the world. You can make a difference.

The Edmonton group has been active for over 40 years and has a dedicated core group of members. Our activities include:

Advocacy by sending letters, faxes, petitions and emails.

Public education and outreach by hosting events, information tables and speakers at many of our monthly meetings.

Fundraising and contributing to various human rights initiatives.
2021 Meetings
Our Monthly General Meetings will be virtual meetings until further notice. They are usually held on the first Monday of each month. Our October meeting will be on Monday, October 4 at 8pm. PLEASE NOTE THAT THIS IS A CHANGE OF TIME SO THAT WE CAN ATTEND THE SISTERS IN SPIRIT CONVOY 4 ACTION. Please email amnesty1@edmontonamnesty.org if you would like to attend our meeting. Thank you.
MONDAY, OCTOBER 4, 2021 AT 4 PM the Sisters in Spirit Convoy 4 ACTION will meet at the Alberta Legislature Building parking lot at 96th Avenue and 106 Street. Please come in your vehicle by 4pm. There will be ceremony at the beginning of the convoy so please be prepared to make a tobacco offering from your vehicle. All COVID protocols must be adhered to. We honour Missing, Murdered, and Exploited Indigenous Sisters and Brothers, their loved ones and survivors. Please join Missing, Murdered, and Exploited grassroots family member /survivor advocates on Monday, October 4th 2021 for the Edmonton - amiskwacîwâskahikan (ᐊᒥᐢᑿᒌᐚᐢᑲᐦᐃᑲᐣ) Sisters in Spirit Convoy 4 Action.
Please continue to take actions online during this difficult time.
Download the SOS application on your Android or iPhone to take immediate action on urgent cases here
See the Amnesty International Canada youtube channel here
See the Amnesty International Canada Social Action Network here
The Edmonton, Alberta, Canada group of Amnesty International meets on the first Monday of each month, except July, and August. Members of the public are welcome to attend.
Activist Profile video
Please take a look of our fourth video profile, thanks
Donation
Please click the button below to donate, thanks.